Barcelona FCBCamp
The camps that are organised during the year are aimed at boys and girls between 6 and 13 years of age and form part of the 'Learn with Barça' series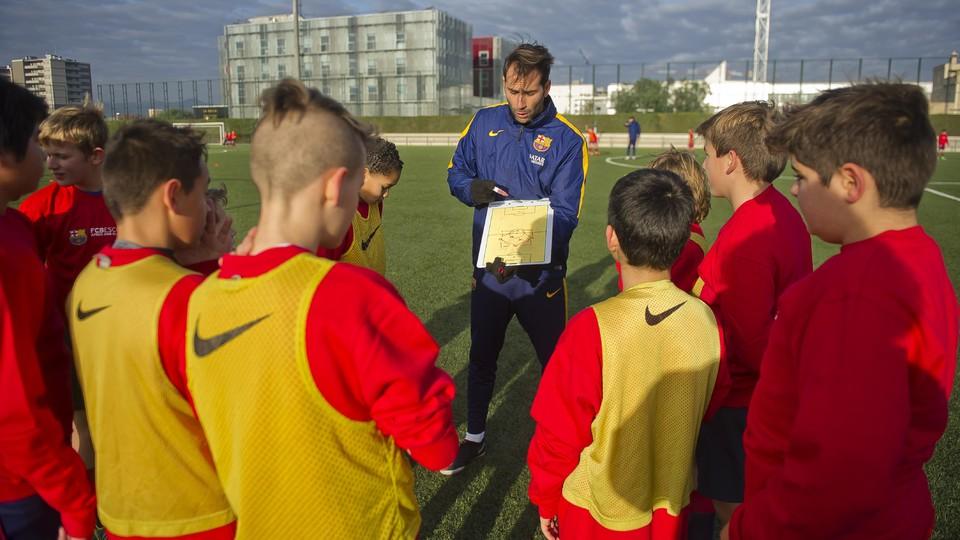 LEARN WITH BARÇA
'Barça classes'
Advanced classes to learn, improve and master the main skills needed to play football
Dates: The first week of September and the third week of June
Times: from 5.30PM to 7.00PM or from 7.00PM to 8.30PM
Slots available for the third week of June, 2017 (19-22 June)
Activities for boys and girls ages 6 to 13.
Aimed at participants in FCBEscola, FCBEscola Tecnificació (Barcelona and Catalonia), as well as children from other sports clubs.
Open to field players and goalkeepers.
Sign in: HERE
Christmas FCBCamp
Leisure, cultural and sports activities during the Christmas holidays
Registration for 2017 not yet open
Easter FCBCamp
Leisure, cultural and sports activities during Easter week, from 10 to 12 April
Times: Full day from 9.00AM to 5.30PM and half day from 9.00AM to 1.30PM
Registration for 2017 CLOSED
PARTICIPANTS
The camps are for boys and girls aged 6–13
Aimed both at pupils from FCBEscola and FCBEscola Technification schools (Barcelona and other venues), as well as boys and girls from other schools and sports clubs
Open both to field players and goalkeepers
FACILITIES
The fields adjacent to the Miniestadi and/or the training field at the FC Barcelona training centre in Sant Joan Despí (artificial grass)
Other Club facilities and locations: FC Barcelona Museum, Ice rink, etc
OBJECTIVES
Teach the FC Barcelona training methodology
Improve knowledge of the main skills and tactical aspects of

football

Extend knowledge of Barça and its facilities
Allow boys and girls of the same age to make new friends and enjoy different activities together
TRAINING SESSIONS
FCBEscola coaches (with experience teaching children, with CAFE licences, and official certificates from the Catalan Football Federation)
Personalised attention with the coach playing a key role in the progress of each child due to a maximum ratio of 12 children per coach
High intensity and participation from each child in every training session
Participants distributed by ages and levels
Modern, high-quality programme, with training sessions adapted to each child's level
Field of play in perfect condition for playing football
OTHER CONSIDERATIONS
All participants must be insured. A physiotherapy service will be available throughout the camp.
The FCBEscola will provide complete training gear to all participants on the first day
At the end of camp, every child will receive a diploma certifying his/her participation and will recieve a gift to take home.
Rubber-studded or multi-surface football boots are recommended (metal-studded boots are strictly forbidden).
More information: fcbescola.campus@fcbarcelona.cat