Learn with Barça, enjoy learning to play football
These are all the activities that FCBEscola organizes at its facilities during the year with the same philosophy and system of FCBEscola.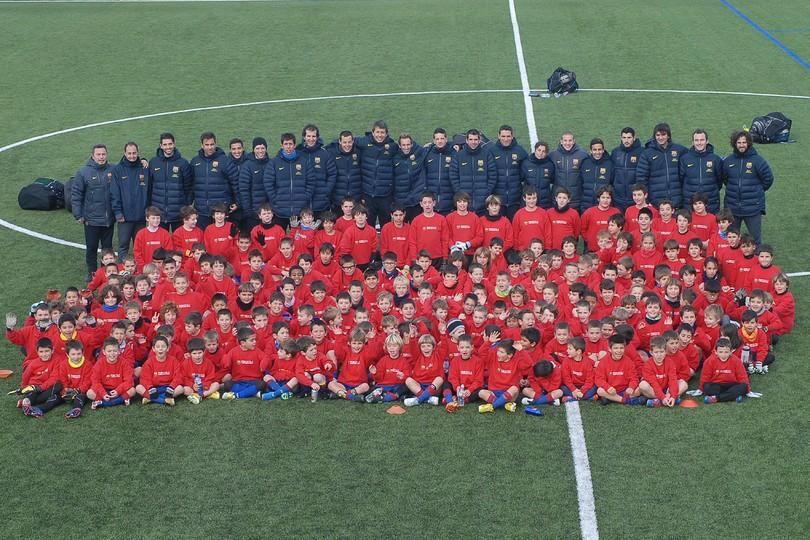 To receive all the information about the different activities of "Learn with Barça" that FCBEscola organizes during the season you can go to the following email address: fcbescola.campus @ fcbarcelona.cat
TARGET
Children from 6 to 13 years old.
Aimed at pupils of the FCBEscola, and also the FCBEscola de Tecnificación (Barcelona and other venues), and children from other schools and sports clubs.
Open to outfield players and goalkeepers.
FACILITIES
Pitches annexed to Miniestadi or Training pitches 5, 6, 8 and 9 at the Ciudad Deportiva Joan Gamper de Sant Joan Despí (artificial grass).
Other facilities and spaces at the Club: Ice Rink, FC Barcelona Museum,…
OBJECTIVES
Discovering the philosophy and training methodology of FC Barcelona.
Improving the main technical and tactical aspects of football.
Expanding knowledge about Barça and its facilities.
Getting together with children of their own age and anjoying the activities proposed.
TRAINING SESSIONS
Coaches from FCBEscola (experienced in coaching children, with CAFE licence and official qualifications from the Federació Catalana de Futbol).
Personalised attention and coach working closely with each pupil à there is a maximum ratio of 12 pupils for each coach.
Highly intense participation of the pupil in the training session
Participants distributed by age and level.
Modern and quality technical programme, with training sessions adapted to the level of each pupil.
Top class playing surface for the practice of football.
OTHER CONSIDERATIONS
Each participant gets private insurance cover; there will be a physiotherapy service for activities and training sessions.
FCBEscola will provide complete training kit to all participants on the first day.
At the end of the activity, every child will receive a diploma and a souvenir shirt.
CAMPS
BARÇA CLASSES
Few technical coaching sessions, the main objective of which is to learn, improve and refine the main technical movements of football.
Dates: first week of september and third week of june.
Times: from 17.30 h to 19.00 h. or from 19.00 h to 20.30 h
BARÇA CLASSES JUNE 2015 registrations will start in april 2015.
FCBCAMP CHRISTMAS
Leisure, cultural and sports days that take place during the Christmas holidays.
Times:
Full day: from 9.00 h to 17.30 h.
Half day: from 9.00 h to 13.30 h.
REGISTRATION (coming soon)
FCBCAMP EASTER
Leisure, cultural and sports days that take place during the Easter holidays.
Times:
Full day: from 9.00 h to 17.30 h.
Half day: from 9.00 h to 13.30 h.
FCBCAMP EASTER 2015 registrations will start in february de 2015.