FCBEscola Basketball
The FCBEscola Basketball is the model used by FC Barcelona with its principal objective providing an all round training programme for its students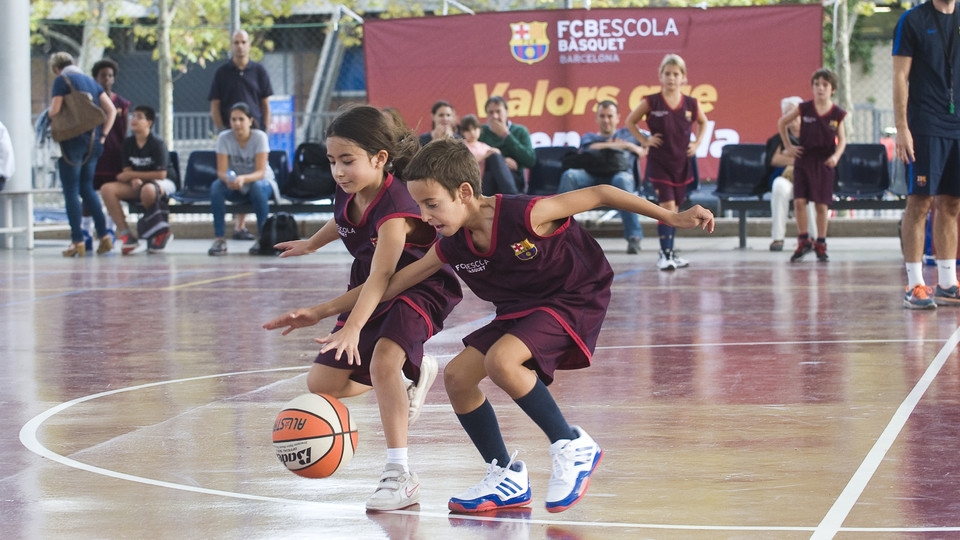 FCBEscola Basketball is a training school run by FC Barcelona aimed at children between the ages of 4 and 12. The students aged between 6 and 12 train twice a week with the younger ones having just one weekly session.
Aside from the internal league matches played on every other Saturday at the Ciutat Esportiva, the students also have the chance to play in various friendly matches and tournaments that are organised during the course.
REGISTRATION
To form part FCBEscola Basketball students must undergo a trial. Those who pass the test become FCBEscola Basketball players for that coming season.
ORGANISATION
FCBEscola basketball consists of four different training stages according to the ages of the players who are taking part:
Pre-introduction (4 to 5 years)
Introduction (6 to 8 years)
Pre-training (8 to 10 years)
Training (10 to 12 years)
Work groups are put together with a maximum of 12 players per group so that pupils can participate more during the sessions and so the coaches can play a bigger role in their development.
FCBEscola follows the same training methods are used as by the youth teams at the Club, which consist of a series of progressive and interrelated exercises, adapted to each training level or stage.
There are two coaches from the FCBEscola for each group. Aside from the coaches, there is a director/coordinator from the FCBEscola to supervise the training sessions and activities linked to FCBEscola basketball.
FACILITIES
Centre Esportiu Municipal Arístides Maillol Les Corts, al carrer Martí i Franquès nº 19-21 in Barcelona
Ciutat Esportiva Joan Gamper in Sant Joan Despí
Oficines FCBEscola Miniestadi
FCBESCOLA CALENDAR
From 19 September to 17 June
TRAINING TIMETABLE
Introduction, Pre-training and training: Monday and Wednesday or Tuesday and Thursday from 5.30pm to 6.30pm or from 6.30pm to 7.30pm
Pre-training: Friday from 5.30pm to 6.30pm or from 6.30pm to 7.30pm
MATCH SCHEDULE
Saturday from 9.00am to 12.00pm every fortnight at the Ciutat Esportiva
More information: fcbescolabasket@fcbarcelona.cat